We want you to Shop Small This Holiday Season!
The Murrieta/Wildomar Chamber of Commerce in partnership with Explore Murrieta, City of Murrieta, and City of Wildomar is excited to announce the launch of its "Shop Small This Season" campaign, encouraging residents and visitors to support local businesses during the holiday season and beyond. This initiative aims to boost the local economy, create a stronger sense of community, and celebrate the unique charm of Southwest Riverside County.
This year we have lots of great ways you can shop small and shop local, read more in our Press Release Here!
Shop Small This Season & Win BIG!
We're running a #Hashtag Giveaway Contest from November 20 - December 17!
To participate in the Shop Small This Season giveaway, visit any Southwest Riverside County Small Business, make a purchase, take a selfie, and post it on your Facebook or Instagram feed, use the #ShopSmallSouthwest hashtag and tag the Murrieta/Wildomar Chamber of Commerce @MMWCoC between Monday, November 20 and Sunday, December 17. Each post is one entry into the contest, get bonus entries by visiting participating businesses on the Shop Small this Season Map.
Each selfie posted is an entry to win prizes like a 55" TV, Local Business gift cards, & more!
*Winners will be drawn the week of December 18. Posts must be in feed, story posts do not qualify. For more information regarding the campaign, contact Nadine Kotob, Murrieta/Wildomar Chamber of Commerce, at Nadine@mwcoc.org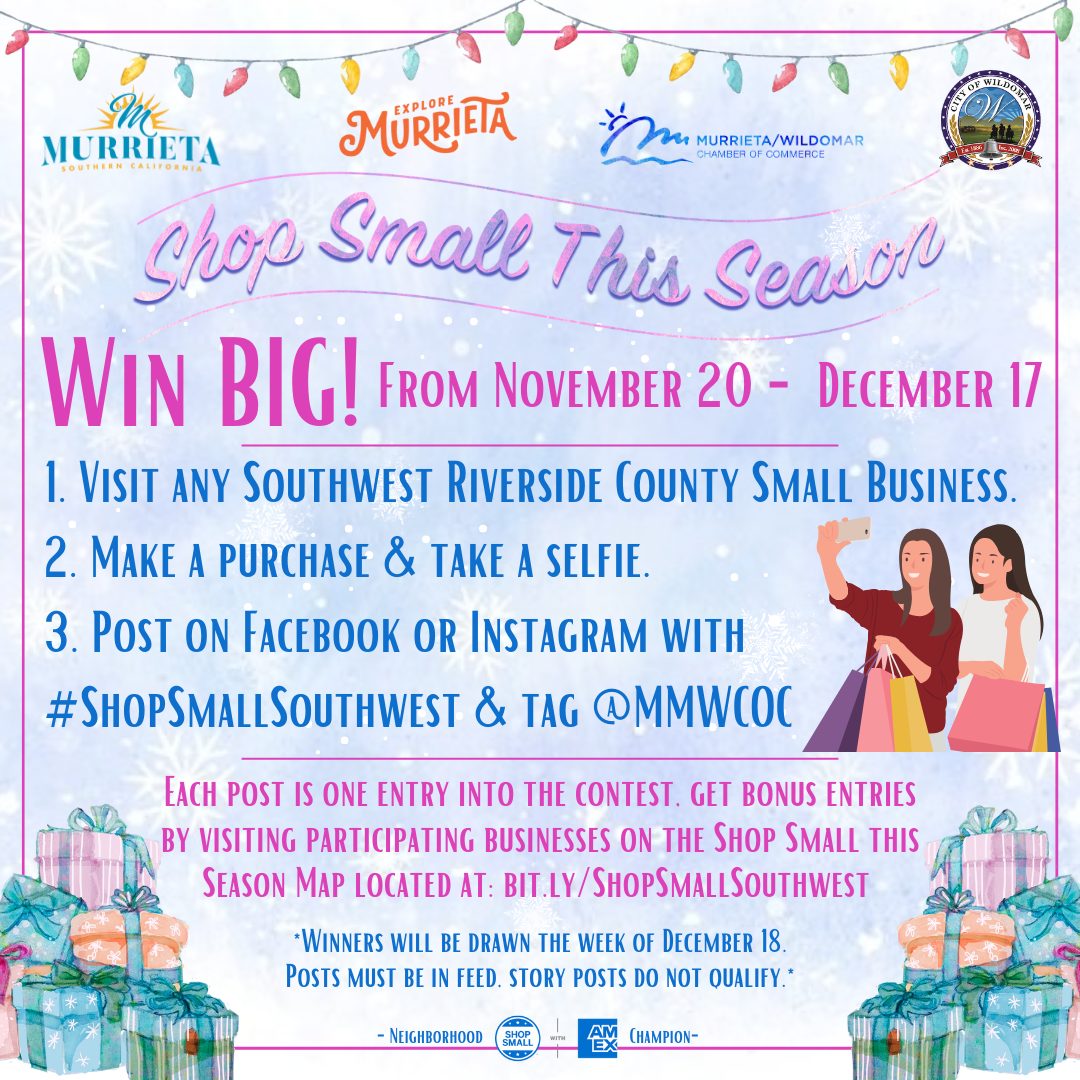 Check out the Shop Small Map for All The Hot Spots this Season
Here are a few fun facts to get you in the shopping small & local spirit!
For every $100 spent at small businesses, $68 is put back into the local economy.
Every dollar you spend at a local small business goes directly into our community. You're not only creating jobs, but helping local people keep their jobs!
Did you know small business owners spend more face-to-face time with their customers? This means you get to know exactly who you're supporting in our community!
According to Nerdwallet, Small businesses donate 250% more than large businesses to community causes.
Did you know businesses with fewer than 20 employees account for 89% of all US Employers
Small Businesses Donate
%
more than large businesses to community causes!
For every $100 spent at a small business
$
is put back into the local economy